What is a Micron? 
A micron a unit of length equal to one millionth of a meter.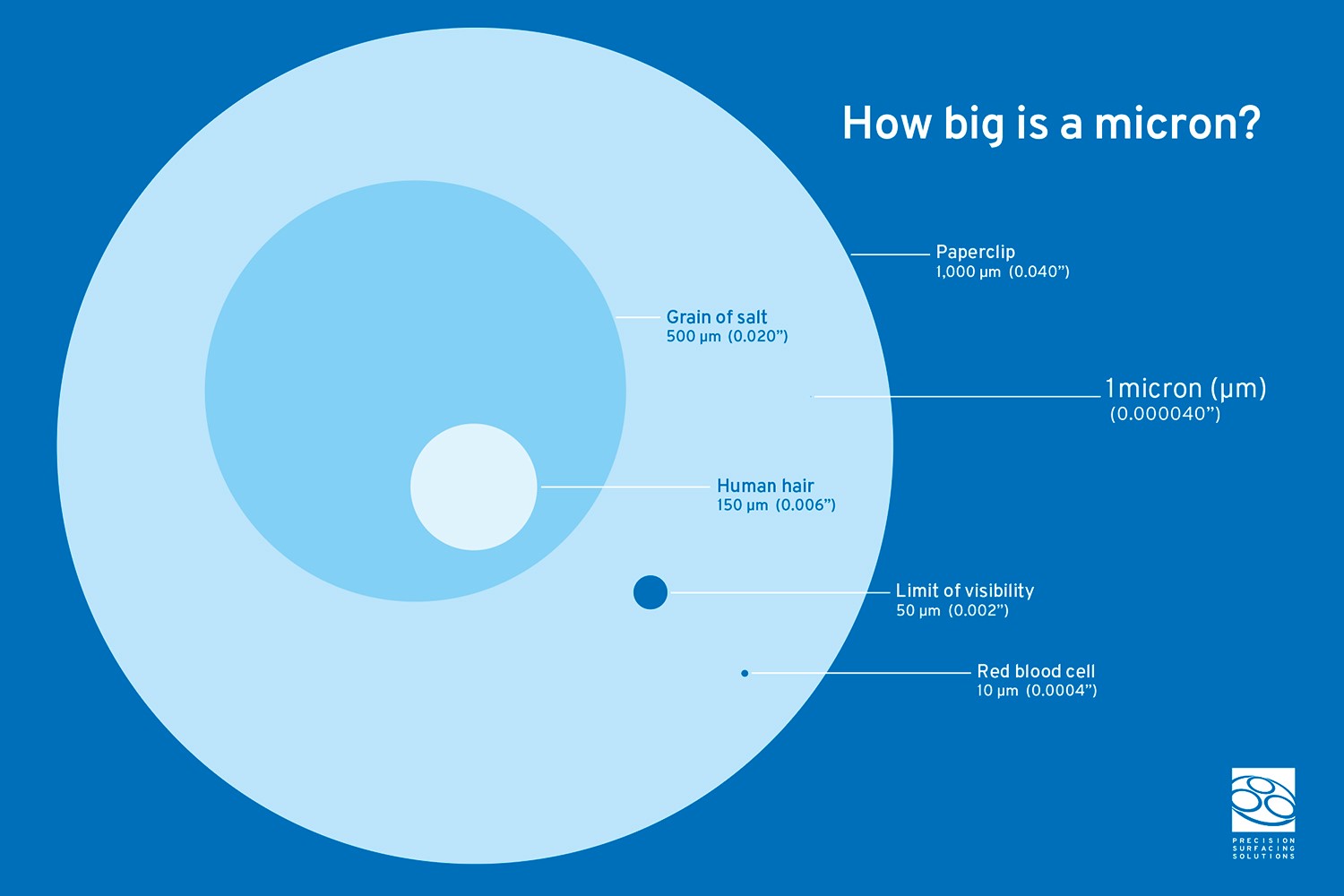 Performance Capabilities
Because lapping and polishing are considered micro-machining processes used, in general, to produce low surface roughness and precision flatness, this section will limit the subject to the lower limits. This is not to imply that lapping is always performed to obtain low surface roughness and precision flatness. Many applications involve the "clean up" or co-planing of a surface simply to obtain a reference plane for a subsequent manufacturing operation.
Offering firm capability data without the benefit of defining a specific application and processing sample components is impossible. It is very common to obtain a disparity with surface roughness data when comparing two applications where the component material and abrasive used is exactly the same. This is because lapping and polishing processes have many variables that in combination with the component variables cause significant differences in the results obtained.
Lapped Surface Roughness Capability 
In general it is quite achievable to obtain surface roughness of 1 micro-inch (.0254 micron) or less on a dense, hard metal with the use of a very fine aluminum oxide abrasive. This statement is a guideline only or what we would refer to as a "trade show answer". It is common for trade show attendees to ask performance capability questions without offering any application data.
Units of Measurement Used to Define Flatness
One of the primary purposes of lapping is to machine a surface so that any portion of its two dimensional plane does not deviate in the third dimension further than a specified distance as measured over a specific surface area. A plane is defined in geometry as a two-dimensional surface bordered by three points measured over a specified area. A design engineer can specify the flatness, deviation from the plane, of a surface using one of several alternative terms or units of measurement. The most common terms used to specify flatness in our industry are as follows:
• linear measurement units (ex.: .0000116" or .2946 micron)
• light band = .00001155" (.2934 micron or 2934 angstroms) based on yellow
helium gas light source
= .0000116" (.2946 micron or 2946 angstroms) based on sodium
gas light source
• wave = equals two light bands (ex.: ½ wave = one light band )
• fringe = one light band
As you can see from the examples, it is possible to specify the same measurement number using different terminology. Certain industries have standardized on the use of a term to specify a unit of measurement while other industries use a different term for the same measurement. This is why it is important to be familiar with all the common terms and to be able to routinely calculate conversions.
Flatness Measurement
Flatness can be measured using several different types of equipment. The simplest method would be to use a common dial indicator to measure the deviation distance, high (convex) or low (concave), from the reference plane. The resolution of the dial indicator will determine if this equipment is suitable and accurate enough to be used. Very accurate dial indicators can only resolve .000050" (1.27 microns) units of measurement. If the engineering specification for flatness of the component surface is two light bands a dial indicator does not have the capability to measure the lapped surface.
In our industry it is more common for flatness to be specified in light band units. The only commonly used equipment capable of measuring a light band is an optical flat and interferometer. Both of these devices utilize the physics principle of "Newton's Fringe" which explains the dark band (interference fringe) created by the intersecting (interference) of two diffracting monochromatic light waves.